Welcome to Palm Beach Gardens
Palm Beach Gardens, known as the "garden city" to locals, speaks the language of prestigious golf clubs, luxurious shopping malls and a palatial real estate market that continues to grow. Coining itself as the crown jewel of private members clubs in The Palm Beaches, this sprawling neighborhood is the avid golf player's dream, home to The Professional Golfers Association of America. However, amid its expansive golf courses fit with elite clubhouses, potential property owners can also find an equally high-end retail scene including The Gardens Mall, Downtown at the Gardens, Legacy Place, PGA Commons and Mainstreet at Midtown. Each offering several world-renown department stores, runway-ready designer labels, locally curated boutiques, five-star restaurants and cultural attractions, these open-air, innovative malls lend for more than just the traditional shopping experience.
However, outside of its heritage as the golf mecca of the eastern seaboard, Palm Beach Gardens also provides for a charming family-friendly lifestyle. Popular attractions comprise of The Downtown Carousel, Lacuna Tours, Ballet Palm Beach and the 15-acre Mirasol Park. Burns Road Park, one of the largest playgrounds in the neighborhood, is also favored for its picturesque setting, idyllic for an after-school picnic lunch. An Aquatic Complex is located inside the park with a splash pad, rock-climbing pool wall, water slides, lap pools and mushroom shaped water attractions. On Sunday's, locals have been known to frequent the Gardens GreenMarket, open from 8am to 1pm. A source for sustainable ingredients, fresh fruits, in-house made breads, cider donuts, artisanal cheeses and seasonal posies, the Gardens GreenMarket is a one-stop-shop for tasty and creative treats.
A plethora of award-winning private, public and charter schools are located nearby. Sought after private schools comprise of Benjamin Upper School, St. Mark's Episcopal School and Arthur I. Meyer Jewish Preparatory School. Highly ranked public and charter schools include Suncoast Community High School, Alexander W. Dreyfoos Jr. School of the Arts and Western Academy Charter School. In addition, nationally regarded private and public colleges are situated in driving distance such as Florida Atlantic University, Palm Beach State College, Barry University and Nova Southeastern University.
Palm Beach Gardens is centrally located, just inland from the coast. Residents have the opportunity to enjoy the hustle and bustle of metropolitan cities close by such as West Palm Beach, Boca Raton, Fort Lauderdale and Miami while relishing in the tranquil, resort-style surroundings of Palm Beach Gardens. Both private and commercial airports are in proximity including Palm Beach International Airport, Boca Raton Airport and Fort Lauderdale International Airport. Additional travel options include Port Everglades and West Palm Beach Train Station.
Florida's Top Golf Destination: Country Club Style Living
The height of America's most cherished pastime rests in Palm Beach Gardens. A home base to some of the most impeccably designed and exclusive golf clubs in the country, this wide tree-lined community is every golf player's most sought-after destination with over 12 courses in city limits. Lending pride of place to the prodigious PGA National Resort & Spa, Palm Beach Gardens has seen the likes of golf legends including PGA Tour champions Jack Nicklaus, Justin Thomas, Greg Norman and Ernie Els in addition to 2-time PGA Tour champion Justin Leonard and eight-time PGA Tour champion Brad Faxon. Meticulously designed, PGA National Resort & Spa offers five championship courses initially designed by Tom and George Fazio and then reimagined by Jack Nicklaus to reign today as the most difficult course in the state. tranqui
Sandhill Crane Golf Club, one of the only golf courses in Florida that meanders through natural preserved and wetlands areas, is the highlight of Palm Beach Gardens. Embracing what's most special about the city, this beautiful course is surrounded by 6,500 yards of southern pines, palm trees and marsh land. This par 72 course was recently redesigned and renovated by golf architect firm Dusenberry Design and features five sets of tees, practice facilities and an aqua driving range. For those who are looking to indulge in country club style living with on-premises private links, there are a plethora of gated communities to invest in that feature the finest in amenitized living. BallenIsles Country Club, Country Club At Mirasol, Eastpointe Country Club, Frenchman's Creek Beach & Country Club, Old Palm Golf Club and Old Marsh Golf Club are only a few of Palm Beach Garden's exclusive communities that capture the essence of South Florida living. Palm Beach Gardens also offers buyers the affordability of living in a private community without the outdoor pursuits of golf and tennis clubs. Steeplechase, Horseshoe Acres, Prosperity Bay Village, San Michele, Natures Hideaway and Caloosa are some of the most admired neighborhoods that offer estate-style private homes. Furthermore, Paradise Port, Mariners Cove, Marina Gardens and Maheu Estates allow for peaceful waterfront living on the backdrop of the soothing Atlantic Ocean
The Garden City: Balmy Tropical Surroundings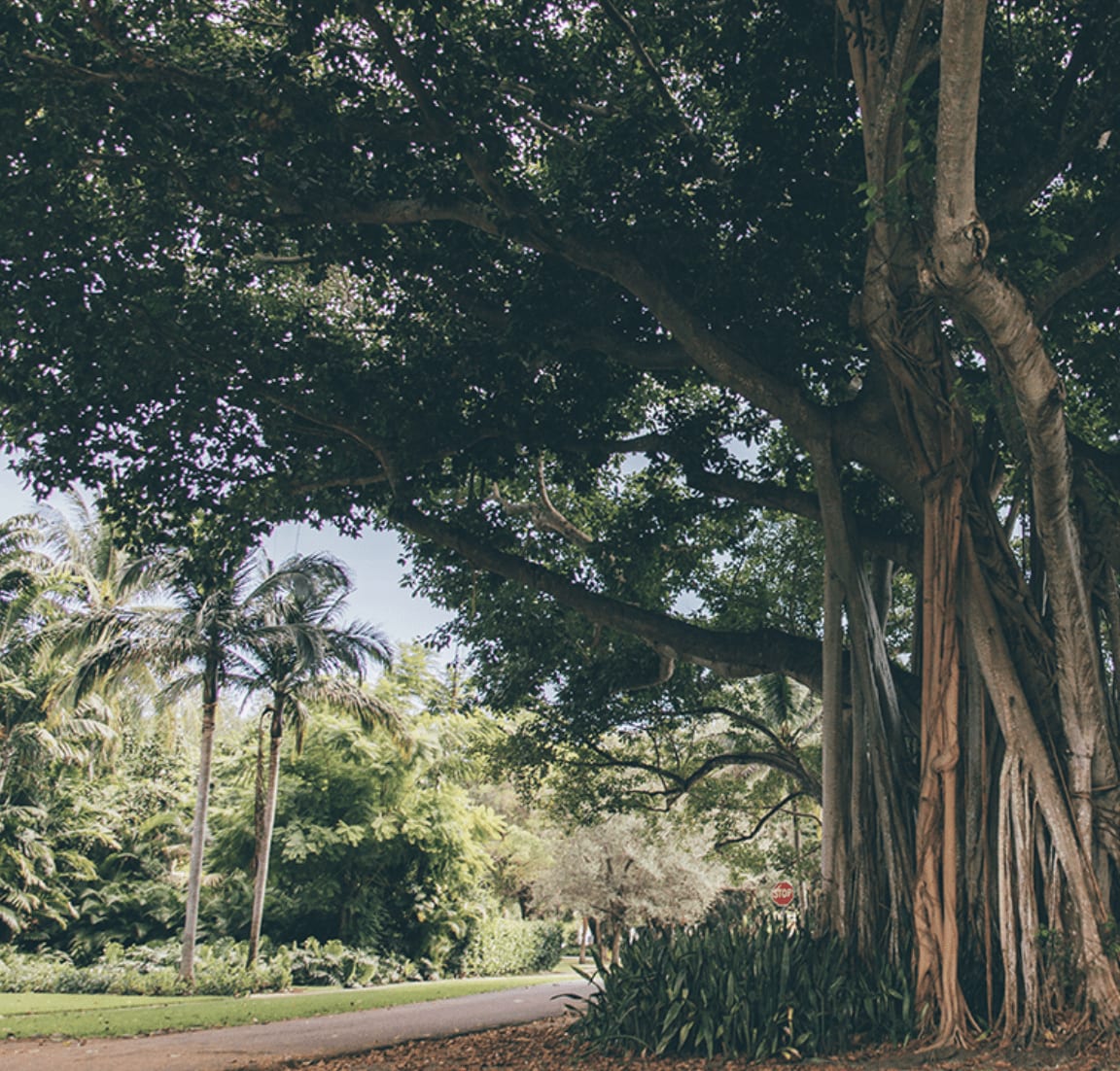 Picture settling down in the best of both worlds of lush backgrounds with fragrant gardens and a new modern community. Palm Beach Gardens, although a quaint golf neighborhood with ultra-chic storefronts, is enveloped with radiant blooms and undulating trees. Initially developed in 1959 by John D. MacArthur, a multimillionaire insurance magnate and landowner, this plush area was first designed with a garden city plan in mind. Carved out of uninhabited, dairy cattle grazing land, Palm Beach Gardens soon developed into the contemporary blueprint of the American Dream, where residents could raise a family and earn a living.
Today, in keeping with MacArthur's vision, Palm Beach Gardens is lined with rolling terrain, exotic flora, pastel posies and palm-shaded trees. The neighborhood's original Banyan trees are still standing as MacArthur insisted that the city streets be constructed around the rich foliage that was already planted, noting that he could buy everything but age. Two gentle and stunning Banyan trees sit at the entrance of the city. Palm Beach Gardens has been named a Tree City USA for more than 30 years.